About Cheri
Cheri Elliott, "The Broker on a Bike"
Direct: 916-939-7762
elliott-c@sbcglobal.net

Century 21 Select Real Estate
4601 Post Street
El Dorado Hills, CA 95762
Direct: 916-939-7762
Fax: 916-933-4627
License#: 01320399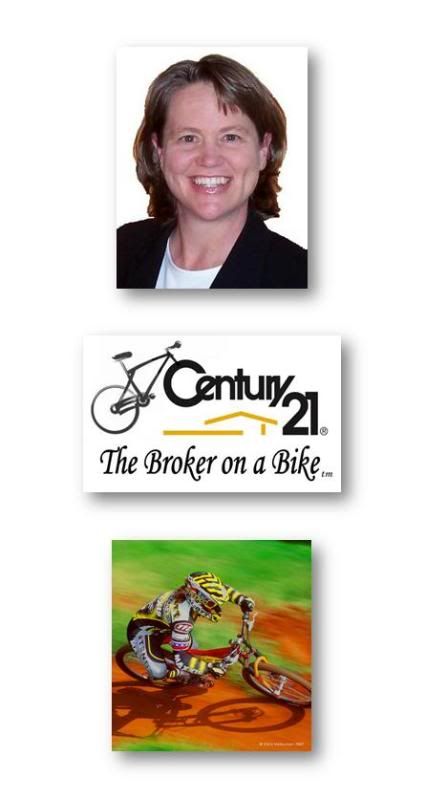 Cheri Elliott

Cheri Elliott , a.k.a. "The Broker on a Bike," is Century 21's Senior Executive Broker-Associate located in El Dorado Hills and one of the most respected Realtors in the area due to her impeccable reputation for client satisfaction with over a decade of award-winning real estate services. Cheri specializes in residential home buying and home selling, handles transactions efficiently, and prides herself on giving her clients her personal and undivided attention.
This successful history has resulted in a long list of satisfied clients plus such honors as a Life-Time Member Top Achiever, a Leader's Circle Award-Winner, a Master's Ruby Award winner, a Quality Service Award-Winner, Master's Diamond Award-Winner, including being a short sale specialist credentialed as a Certified Distressed Property Expert (CDPE). Cheri Elliott also holds her Bachelor's of Science in Business from CSUS with a concentration in Real Estate and Land Use.
In addition to her real estate success, Cheri Elliott also possesses a fascinating successful past. Cheri is honorably well known as "The Broker on a Bike" for her legendary professional cycling career which includes 14 World and National Championship titles, two X-Games Gold Medals, a Guinness World record, a published author, a public speaker, CEO of an International Sports Management company, and a two time Hall of Famer with her most recent induction into the "United States Bicycling Hall of Fame."
Needless to say, Cheri now translates that athletic passion and drive directly to her real estate services for her Buyers and Sellers. If you are buying, Cheri Elliott will help determine your specific needs to ensure the best selection of properties. When you are ready to sell, Cheri will determine your property's value and aggressively implement her time-tested marketing strategy that spans locally, nationally and globally.
With her years of experience, vast real estate knowledge, unparalleled marketing strategy, and meticulous professionalism, Cheri Elliott's goal is her clients' complete satisfaction.

See CLIENT TESTIMONIALS
VIDEO: Cheri Elliott's Acceptance Speech at the United States Bicycling Hall of Fame Event
VIDEO: Cheri Elliott - Now Winning for You in the World of Real Estate
VIDEO: Cheri Elliott's Cycling History Introduction Video at the U.S. Bicycling Hall of Fame Event
VIDEO: Cheri Elliott 1998 ESPN Winter X-Games
VIDEO:
Cheri Elliott just being silly and having fun!
Cheri Elliott - "The Broker on a Bike"

Century 21's Senior Executive Broker Associate
B.S. in Business: Emphasis in Real Estate & Land Use ~ CSUS
Over a Decade of Award-Winning Real Estate Services
Life-Time Member Top Achiever
Master's Diamond Award Winner

Master's Ruby Award Winner
Beyond Excellence Award Winner
Leader's Circle Award Winner
Quality Service Award Winner

Awarded Top Achiever 2002, '03, '04, '05, '06, '07, '08, '09, '10, '11 & '12

Residential Single Family & Luxury Homes
Certified Distressed Property Expert (CDPE) - Short Sale Specialist
Certified HSR Home Stager
Dedicated Full Time Real Estate Professional
Possesses a Time-Tested, Innovative Marketing Program
Member of the National Association of Realtors (NAR)

Member of the California Association of Realtors (CAR)

Member of the El Dorado County Association of Realtors (EDCAR)

Former 14-Time World & National Champion World Class Cyclist
Two-Time X-Games Gold Medalist & Guinness World Record Holder
Published Author, Public Speaker & Helmet Safety Advocate for kids
United States Bicycling Hall of Fame Inductee
BMX Hall of Fame Inductee
---
SEARCH

FOR SELLERS

FOR BUYERS

RESOURCES

COMMUNITY

SHORT SALES

CHERI ELLIOTT

FOR RENT