Serrano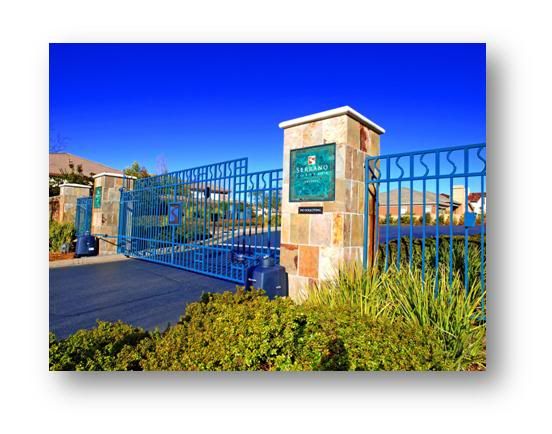 Serrano in El Dorado Hills

Welcome to the award-winning luxury gated community of Serrano in El Dorado Hills - boasting as one of the most highly desirable areas to live in all of Northern California.
Residents enjoy countless advantaged of living in Serrano El Dorado Hills. Below will touch on many of those advantages such as Serrano's annual activities, details about the private Serrano Country Club, information on the HOA amenities and benefits such as front yard landscaping provided and 24 hour roaming security. Serrano is also dedicated to the environment with its recycled water, use of hybrid vehicles, support of solar, and dedication to over 1000 acres of open space and 17 miles of hiking trails. In addition, for those families that appreciate outdoor recreation, Serrano is located strategically close to Folsom Lake, the American River and Lake Tahoe making Serrano an outdoor enthusiast's dream. Not to mention one of the most hotly sought after reasons families flock to Serrano is its top-ranked schools. The school system from elementary school, to middle school to high school has an unprecedented history of being in the top percentages of schools in all of California. Additionally, Serrano has an abundance of community events for the whole family to enjoy. Serrano is an award-winning neighborhood for good reason.
If you are in need of Serrano El Dorado Hills real estate assistance, Cheri Elliott is not only a top Realtor who specializes in Serrano and has been helping Buyers and Sellers with Serrano real estate for over a decade, she has also been living in Serrano for a decade as well. Feel free to contact Cheri anytime to learn first hand what it is like to live in Serrano. Cheri Elliott always says "I love it here so much, I will retire here. There is no place like Serrano in El Dorado Hills." In addition, if you have common questions such as "how much are the Serrano HOA fees?" or "how much is the Serrano Mello Roos?" on a particular Serrano property - Cheri Elliott can easily answer those questions as well.
Annual Serrano Activities and Events

Serrano is a lively and vivacious community filled with exciting activities for you and your family to enjoy. Throughout the year you are invited to some of the hottest events in the area, with the convenience of being just a short and easy walk away. To find out when your favorite event is scheduled, call Serrano HOA phone number at (916) 939-1728, or just simply visit this Serrano informational page often as it will update frequently as events are scheduled throughout the year.

Serrano Fall Fest Community Day - September 28, 2013: 2:00pm-6:00pm - The 2013 Serrano annual Fall Fest Community Day in El Dorado Hills has come and gone. 2014 Fall Fest date TBD. Bring your family for a day of entertainment, music, food and more. Here's the Serrano Fall Fest activity that was provided during the 2013 Fall Fest event:
Golden Hills School Choir: 2:20 PM
El Dorado Dance Academy: 2:45 PM
Foothills Dance Studio: 3:00 PM
El Dorado Hills Taekwondo: 3:20
Posterchild (party band): 4:00 PM
Chili Tasting & Chili Cook-Off Awards: 4:45 PM
Enter the Chili Cook-Off, register on website or call office. Mid-September registration deadline - TBD. Live music, dance demonstrations, bounce house, raffles, and more activities will be added, so check back often, or call Serrano HOA (916) 939-1728 for more information.
Serrano Outdoor Night at the Movies - Serrano Summer movie nights 2013 has come and gone. 2014 TBD. The featured movie for Serrano Summer 2013 was "The Pirates: Band of Misfits" on the big jumbo screen premiered in June. During the Serrano movie night Serrano provides free popcorn, a bounce house, early bird drawings, and pre-movie entertainment. Serrano's "Night at the Movies" outdoor film series is very popular. Moviegoers bring blankets, lawn chairs and picnic dinners and view top-quality films that are family friendly. Call Serrano HOA (916) 939-1728 for more information.
Serrano Community Garage Sale - The Serrano Gated Community holds one huge community-wide garage sale once a year where yard sale enthusiasts can find treasures from this luxury El Dorado Hills neighborhood. The Serrano 2013 yard sale has come and gone. It was held May 18, 2013 from 8:00am to 3:00pm. The 2014 Serrano annual yard sale is TBD. Call Serrano HOA at (916) 939-1728 for more information on Serrano's once-a-year community wide huge garage sale.

Serrano's Annual Easter Egg Hunt – In the spring, Serrano families enjoy the Easter Egg Hunt where kids can meet and take photos with the Easter Bunny and join the fun in gathering more than 12,000 eggs. Everyone enjoys refreshments and also receives a FREE child safety I.D. card. This years Serrano annual Easter Egg hunt was scheduled on March 30, 2013 from 9:30am-10:40am. Photos with Easter Bunny and refreshments start around 9:30am and the Easter egg ACTION usually starts around 10:30am. Please RSVP at 947-7020. Call Serrano HOA at (916) 939-1728 for more information.
Neilo Concourse at Serrano - October 6, 3013 - Event is open to the public from 10:00 AM to 5:00 PM. A car lover's dream. Featuring the Marque of Pierce Arrow and Celebrating Fifty Years of the Cobra. Thousands of auto enthusiasts converge on the Serrano Village Green at the Serrano Visitors Center to view classic, vintage cars. Advance tickets are always available for purchase at all Niello Dealerships, visit www.Niello.com for locations. Tickets usually range from $35.00 in advance and $45.00 at the gate. Ticket includes parking, shuttle, and an event program. Children 12 and under are admitted at no charge with a paid adult. Visit The Concourse website. For more information, call Serrano HOA at (916) 939-1728.
Serrano's Holiday Decoration Contest – The annual Serrano Holiday Decoration Contest is held every December encouraging residents to brighten their homes with Holiday lights and decor to the fullest. The Serrano Events Committee will tour the neighborhoods usually around the second week of December in search of the three most creatively decorated houses. Winners receive a prize generously donated by local businesses. Each winner is recognized in the following year's Winter Newsletter. Judging is based upon, creativity, details, variety and theme.

Serrano's Santa Run - December 19th at 6:00pm: - Every December Serrano holds a "Santa Run." The 2013 Serrano Santa Run is scheduled for Thursday, December 19th at 6:00pm at the Serrano Visitor's Center. All are welcome at Serrano's annual Santa Run to join in the festivities with cookies, crafts, and hot chocolate while waiting for Santa to arrive. There are coloring stations and the opportunity to write a letter to Santa. Santa normally arrives around 6:00pm. Call Serrano HOA at (916) 939-1728 for more information.

In addition to Serrano's many annual events, Serrano also opens its grounds to several community-sponsored events throughout the year, including the Family Community Festival in September, presented by the El Dorado Hills Chamber of Commerce. The El Dorado Hills Activity Guide is a great resource to not only see what Serrano activities occur, but also the array of activities the entire El Dorado Hills area provides its residents.

Serrano Golf Course and Country Club

The Serrano Country Club is spectacular. Designed by internationally renowned golf course architect Robert Trent Jones, Jr., the par-72 championship golf course use of the Sierra Nevada rolling hills and natural curves makes the golf game here a unique experience every time - fun and challenging to all levels of play.

The 34,000 square foot clubhouse is distinctive in design specifically situated to enjoy the surrounding views of Folsom Lake and the Sierra Navadas, and the local views El Dorado Hills is so well known for.

Serrano Country Club also offers a fitness facility, spa, two fully lighted tennis courts, a junior Olympic-sized swimming pool, wading pool, elegant dining, and golf shop.

The Serrano Country Club is "private" and not included in the HOA fees. The Serrano County Club has four different club memberships to choose from - the "Golf Membership," the "Associate Golf Membership," the "Sports Membership," and the "Social membership." Each Serrano Country Club membership possesses various benefits to fit the budget and amenity desires of the member. For example, not everyone plays golf. Therefore, the Serrano membership packages that don't include golf would be much more appropriate and cost effective for that member.

Front Yard Landscaping Maintained by HOA
One of the many perks of living in Serrano is that you do not have to worry about maintaining your front yard landscaping. The Serrano landscaping team is constantly on the move taking care of each house, each street, each neighborhood, all the common grounds and parks, with class and style. A true sense of pride is felt when living in Serrano due to the high-quality of landscape service Serrano provides.
Serrano is located on 3500 beautifully oak-studded rolling hill acres located in the foothills of the Sierra Nevada Mountains. Serrano includes over 3800 homes, a dozen neighborhood parks, 20 landscaped gated entries, and six miles of landscaped roadways. The landscaping team is a fully staffed department of trained professionals that work with a handful of several different maintenance contractors. This is an amazing array landscaping talent and dedication keeping the Serrano area a breathtaking place to behold.

The weekly Serrano HOA maintenance service includes two different phases of landscape maintenance. First, there is the weekly general maintenance of mowing, blowing, edging and weeding. In addition, every six weeks, a front yard DETAIL service is performed. The detail service includes shrubs, ground cover, trimming, weeding, and irrigation check. Fertilizer is applied aspart of the scheduled maintenance as well.
Needless to say, these special efforts to make Serrano beautiful and unique has paid off. In 2006, Serrano was Voted "Best Maintained Association" by the Community Association Institute/California North Chapter (CAI/CNC) in Sacramento. In addition, in 2007, CAI/CNC awarded Serrano Association of the Year.
Serrano HOA Provides 24 Hour Roaming Security

Another one of the many perks of living in Serrano is that the Serrano HOA provides around the clock 24-Hour roaming security including a 24 hour security hot line. The Serrano El Dorado Home Owner's Association Security plays an important role in the Serrano community by observing and reporting activities that should not be occurring in Serrano, and making their presence known continually throughout the day with 24 hour roaming throughout all the neighborhoods which allows them to be a deterrence for any suspicious activity. In addition, they monitor the neighborhood landscape making sure it stays beautiful to the Serrano standards.

Serrano Security is always eager to help and assist the Serrano residents in any way they can. They will even monitor your home in the event you are away for extended periods of time. All you have to do is fill out a "vacation check request" and turn it into the Serrano Association office. Your home will be monitored frequently. This is a courtesy service and one of the many reasons Serrano is such a special and safe place to live. Serrano HOA Security after hours phone number is (916) 934-0154.

Serrano The Nature Environment

One of the most unique and well known traits about Serrano is its complete and total dedication to the surrounding natural environment it has the privilege to reside. Very few planned unit development neighborhoods make the commitment to keeping over 1000 acres of land dedicated to open space. While additionally creating 17 miles of recreational trails that connect each neighborhood weaving in and out of nature and architecture. You as the explorer will witness open fields, wetlands, creeks, wildflowers and wildlife. Whether you are walking, jogging, or walking your dog, the surroundings will elevate your senses and compliment your active life style.

Serrano Recycled Water

Serrano is one-of-a-kind in its use of recycled water for its front yards, backyards, golf course, and common areas. In 2005, Serrano received the National Water Use Award of Merit from teh Water Use Foundation. In addition, in years past in 1998, Serrano won the "Project of the Year" award from the California Water Use Association.

---
SEARCH

FOR SELLERS

FOR BUYERS

RESOURCES

COMMUNITY

SHORT SALES

CHERI ELLIOTT

FOR RENT