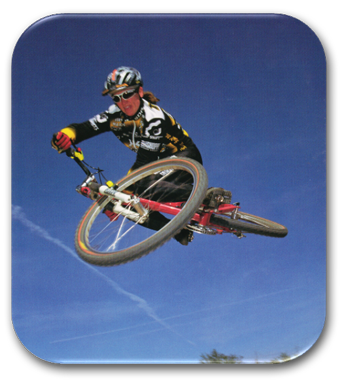 Cheri Elliott is both a nationally and internationally famed iconic cyclist. She carries with her an unprecedented BMX and Downhill Mountain Bike career of 14 major National and World titles under her belt, including two X-Games Gold Medals, a Guinness World Record, a trail-blazer for women cyclist, and a two-time Hall of Famer with her most recent induction into the United States Bicycling Hall of Fame.
Cheri Elliott retired from cycling competition in 2001. Cheri is forever branded as a living legend. No other woman has ever matched Cheri's style, reputation, or her eight back-to-back World and National titles. Beating the top guys, aerials on quarter pipes, explosive riding style, and the ability to do "table-tops" are all part of the Cheri Elliott legacy. Cheri's legacy in both Mountain Biking and BMX is not only attributed to her winning and racing style. She is a unique personality. Cheri always wore a smile and was fun to watch. Additionally, she has her Bachelor's of Science in Business and utilized it wisely. Cheri ran her own racing program successfully for several years sponsored by the top corporate cycling companies in the industry and became a cycling business icon for others to follow. Anyone associated with Cheri would agree that she is "one of a kind" and a true role model.
Cheri Elliott is now one of the most hotly sought after Realtors in Northern California appropriately known as "The Broker on a Bike." As you can imagine, she has built an impeccable reputation for client satisfaction.
Two-Time Hall of Famer
United States Bicycling Hall of Fame
Inducted in 2008
First and Only Female BMX Athlete ever Inducted
BMX Hall of Fame
Inducted in 1989
First Female ever Inducted
Mountain Biking (1994-2001)
Two Time X-Games Gold Medalist World Champion
Three Time X-Games Silver Medalist
Four Time NORBA National Champion
A Guinness World Record Holder
BMX Racing (1980-1985)
Four-Time World Champion
Five-Time National Champion
Three-Time Gold Cup Champion
Two-Time World Cup Champion
First BMXer to ever win 3-consecutive National Titles in a row ('83,'84,'85)
A pioneering Woman that won Trophy Dashes and National Events against male fields.
Considered one of the most iconic and historic figures in BMX history.
An advocate and trail-blazer for all BMX Female Athletes of yesterday and today.
Special
Honors College Graduate, CSUS: B.S. Business - Real Estate and Land Use
A published Author: Co-authored The Athlete's Guide to Sponsorship
Former CEO of an International Sports Management Company
Honorably a Wikipedia Sports Figure
VIDEO - Cheri Elliott's Legendary Cycling History
VIDEO - Acceptance Speech U.S. Bicycling Hall of Fame
VIDEO - Cheri Elliott Winter X-Games Spotlight