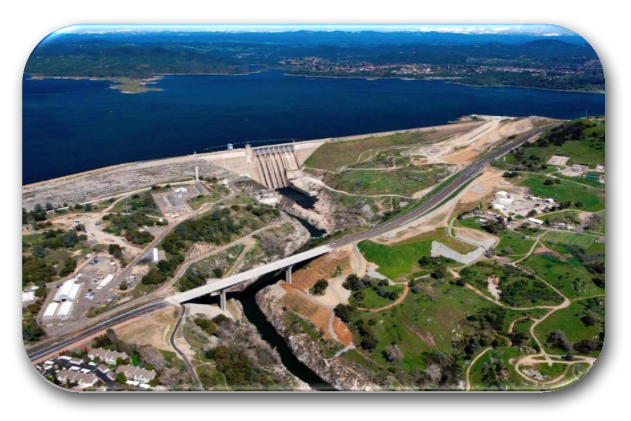 The City of Folsom has made big strides in growing and becoming one of the most highly desirable areas to visit, play, and live. Folsom is rich in history starting with California's Gold Rush and the 49ers. Folsom boasts as the site of the West's first railroad and the world's first long-distance transmission of electricity.
Today Folsom is an innovative, high-tech town, with companies ranging from small to large international corporations. Folsom also possesses excellent schools, beautiful family-oriented neighborhoods, outstanding shopping, dining and cultural options.
The City's General Plan, adopted in 1988, set the path the City is following into the 21st century. It shows a growing city that intends to keep its human scale. It places large retail centers in places easily accessible to regional shoppers, without cramming more traffic into the City's core. It paints a picture of dazzling new neighborhoods as well as a carefully preserved Historical District. The General Plan also takes note of the community's family orientation, calling for a minimum of five acres of park land for each 1,000 residents, and for city co-sponsorship of special activities that involve the entire family.
Although Folsom is not grand is scale and size, it does possess the conveniences of modern living. It has ample shopping and cultural facilities, either in town or within a few minutes drive, and there are plans for more. It also has new hospital facilities and an expanding corps of professional specialists, including doctors, lawyers and financial consultants.
The incorporation of the City in 1946 was a move that has major significance in the self-determination of the City today. Being incorporated allows the the City of Folsom's residents to elect a City Council and to govern themselves. Folsom's primary governing body is the City Council, made up of five members who are elected at large and serve four years. Each year the council members choose a mayor and vice mayor from their own ranks.
Folsom is conveniently located about 25 miles east of Sacramento, 85 miles from Lake Tahoe and 110 miles from San Francisco with direct and convenient access to U.S. 50, and Sacramento International Airport. Folsom is a full-service, incorporated city (services include; Police, Fire, Public Works, Utilities, Parks and Recreation, Public Library, and Utilities). Folsom has over 300 acres of developed park land and over 36 miles of paved pedestrian/bike trails. Folsom is well known as a safe, family-oriented community with a low crime rate (one of the lowest per capita crime rates in Sacramento County). Folsom's Sphere of Influence area encompasses 3,600 acres and is anticipated to be annexed into the city in the near future.
Money Magazine, Newsweek Magazine, and Business Week Magazine have all named Folsom as one of the best places in America to live, work, and play. Recently, Bizjournals named Folsom one of the top 100 wealth centers in the nation. In addition, the recently released FBI Uniformed Crime Statistics confirm that Folsom is the safest place to live and work in Sacramento County.
Folsom is served by the Folsom Cordova Unified School District ; one of the highest rated districts in the region, and is home to Folsom Lake Community College, one of the fastest growing colleges in the nation. Folsom is also served by Mercy Hospital and Kaiser Permanente. Plus, Key employers include: Intel, Verizon, Cal-ISO, Numonyx, Maximus, State of California, Kikkoman, Mercy Hospital, and Kaiser Permanente.
City of Folsom Transportation
Folsom is conveniently located about 25 miles east of California's state capitol in Sacramento, 85 miles from Lake Tahoe and 110 miles from San Francisco. Residents enjoy easy access to Sacramento International Airport and businesses appreciate air cargo operations at Mather Field Airport. Folsom has direct access to Highway 50 with three interchanges. Highway 50 connects to Interstate 5 and Interstate 80. The Folsom Lake Crossing, a new bridge across the American River below Folsom Dam, opened in March 2009 helping to relieve local traffic between El Dorado and Placer counties. Public transportation includes light rail service from Folsom to Sacramento. Local bus service connects Folsom's three light rail stations to major employment centers and other points of interest. Amtrak Rail service is available from downtown Sacramento.
City of Folsom Public Safety
The City of Folsom has its own full-time Police and Fire Departments. Folsom is well known as a safe, family-oriented community with a low crime rate (one of the lowest per capita crime rates in Sacramento County). The City of Folsom is committed to providing appropriate levels of public safety services and maintains a ratio of 1.3 police officers per 1000 population. Folsom's Police Department includes a K-9 unit, SWAT team and a mounted police unit. Fire personnel provide fire suppression, rescue, fire prevention, public education, hazardous materials response and emergency medical services to the Folsom community. The City of Folsom has a new main fire station on Glenn Drive, and three additional fire stations strategically located to serve the community's residents. Folsom's Fire Department is one of just a few in the region that has at least one paramedic on board every fire apparatus that responds to an emergency call.
City of Folsom Utilities
Folsom's Utilities and Public Works Departments maintain Folsom's water supply and waste-water collection systems, and collect, recycle and dispose of refuse. The Utilities Department works in conjunction with the Sacramento Regional County Sanitation District (SRCSD), a public agency that provides waste water treatment services for the greater Sacramento area, including Folsom. The City's Water Treatment Plant is rated by the State of California to treat and deliver up to 50 million gallons a day (mgd.) of clean, safe drinking water for residents and businesses. (Ultimate capacity is 70 mgd.) The City's water distribution system includes 343 miles of water mains, 2,860 fire hydrants, 7 pump stations and a Water Treatment Plant.Kikkomon Foods, Inc. and Gekkeikan Sake cited high quality water as a determining factor in relocating production facilities to Folsom. Wastewater Division staff inspects, cleans, repairs and maintains 267 miles of pipeline and 9 lift stations in the City's waste-water collection system. Staff of the City's Solid Waste Division collects, recycles and disposes of refuse within the City limits. The SmartCart residential recycling program began in August 2005, providing convenient curbside recycling and green waste pick-up in all Folsom neighborhoods.
City of Folsom Education
Folsom's highly regarded schools are in the Folsom Cordova Unified School District (FCUSD). Folsom has ten elementary schools, two middle schools and two large high school. Folsom Middle School and Natoma Station Elementary School have received prestigious "California Distinguished School" awards, and Folsom schools consistently achieve high scores on the state's STAR testing program. Folsom Lake College, a member of the Los Rios Community College District, is expanding rapidly. New construction projects include instructional buildings, physical education facilities, and a regional visual and performing arts center. When completed, Folsom Lake College is expected to serve 15,000 to 20,000 students. California State University, Sacramento is located about 20 miles west of Folsom and just a few miles from the state capitol. Approximately 28,000 students are currently enrolled in 60 undergraduate programs and 40 graduate programs. University of California, Davis, one of the nation's top public research universities, is located about 40 miles west of Folsom. UCD was ranked 11th among public universities nationwide by U.S. News World Report, and currently has about 30,000 students.
City of Folsom Quality of Life Library Services
A 24,000-square-foot, state-of-the-art main library opened in 2006. Folsom Public Library offers access to extensive collections at Sacramento County and other regional libraries. Popular Folsom Public Library programs attract 240,000 visitors per year. A joint-use (City/Folsom Cordova Unified School District) library opened in 2008 at the site of the new Lago del Vista High School campus.
Folsom Shopping and Dining
Folsom's Historic District, located near Lake Natoma, features a variety of quality antique stores, art galleries, specialty gift shops, and family and fine dining restaurants. The Folsom Premium Outlets have 80 stores including Brooks Brothers, Eddie Bauer, Gap, Guess, Kenneth Cole, Off 5th-Saks Fifth Avenue and Waterford Wedgwood. The 50-acre Palladio open-air mall near East Bidwell and Highway 50 is under construction. The first phase consisting of a 16-screen multiplex theater opened in December 2009. Subsequent phases are expected to open in early 2011. When completed, Palladio will include about 80 stores and restaurants comprising over 900,000 square feet of commercial and office space. Folsom has many national retailers including Home Depot, Lowes, Borders Books, and Kohl's. Dining choices include a wide range of restaurants ranging from fast food to fine dining, including many ethnic restaurants.
Folsom Arts and Cultural Activities
Folsom Lake Civic Ballet was formed in 1996 to provide opportunities for young dancers to develop and showcase their artistic abilities. The highlight of the season is a full-length ballet performed for a regional audience. Music lovers enjoy the Folsom Lake Symphony, founded bring performances to Folsom. The musicians perform sell-out concerts each year. Seniors and arts lovers enjoy the amenities of a Senior and Cultural Arts Center located at 48 Natoma that opened in June 2007.
Folsom Outdoor Recreation
Folsom Lake, Negro Bar and Lake Natoma are popular recreational areas for swimming and boating, drawing more than four million visitors a year. Folsom has 36 miles of recreation trails for biking and hiking, with plans to add nearly an additional 20 miles during the next few years. The popular Folsom Zoo Sanctuary provides sanctuary to animals that were injured or orphaned in the wild. The educational focus of the Zoo provides a unique learning experience for the community. Folsom has 43 parks with over 300 developed acres, 20 baseball/softball fields, 18 outdoor basketball courts, 17 tennis courts and 14 soccer fields. The Lembi Park Aquatic Center is a year-round multi-use facility that offers recreational and competitive swimming, classes and special events such as drive-in movies. The Folsom Sports Complex provides indoor space for soccer, basketball, batting cages, volleyball, and special events.
Folsom Special Events
A number of special events are held all year long, attracting visitors from near and far, and providing opportunities to strengthen community bonds. Annual events include:
Eggstravaganza Egg Hunt, Spring
Folsom Handcar Derby, May
Run with Nature, May
Thursday Night Markets on Sutter Street in the Historic District, Summer
Concert Picnics in the Park, Summer
Folsom Pro Rodeo and Cattle Drive, July
Mayor's Cup Golf Tournament, September
Renaissance Faire, October
California International Marathon, December (starts in Folsom)
Christmas Tree Lighting in Historic District, December
Cyclebration, September
Folsom Housing
Folsom's neighborhoods offer a full range of housing options, from luxurious executive homes, to new housing developments nears schools and shopping, charming homes on tree-lined historic streets, condominiums and apartment homes. According to the California Association of Realtors, the median price of an existing home in Folsom has be on a consistent rise for many years due to the lure of living here. Folsom Homes For Sale
City of Folsom Health Care
Mercy Hospital of Folsom is a 105-bed hospital that provides emergency services, a family birth center, rehabilitation, radiology and surgical services. In 2004, the hospital was named one of the national's top 100 hospitals by Solucient for excellence in quality of care, operational efficiency and financial performance. Recently completed is Mercy Hospital's new, state-of-the-art $18 million emergency department that will provide enhanced critical emergency medical care for residents of Folsom and surrounding communities. Kaiser Permanente's Medical Office building serves residents of Folsom and surrounding communities. Kaiser Permanente has opened an Ambulatory Center at its new 50-acre medical campus that ultimately will include medical offices and a 150-bed hospital. The campus is expected to have approximately 1,600 employees when completely developed. Sutter Health and UC Davis Medical Center maintain a presence in Folsom through local physician offices. The highly regarded Sutter Hospitals and UC Davis Medical Center are just a short drive from Folsom.
City of Folsom Related Websites
Folsom Chamber of Commerce
Folsom Tourism Bureau
City of Folsom Website
sources: City of Folsom, Folsom's website and Cheri Elliott.