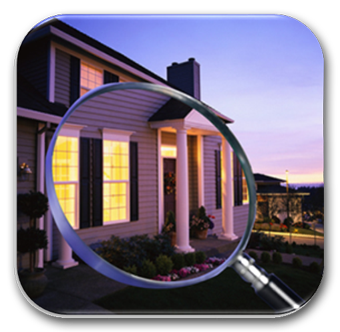 The Home Inspection could be the single-most important process in buying a home, as it ensures that the house is safe, secure, and problem free. Knowing this about the home you are about to move into can put your mind at ease, or if problems do arise in the inspection, the inspection gives you the power to ask the seller to make repairs, or pull out of the purchase deal altogether.
The two main inspections performed on a property are The Home Inspection (also known as "The Whole House Inspection") and The Pest Inspection (also known as the "Termite Inspection"). This page will teach you about these inspections, what they include, plus identify other customary inspections.
The Home Inspection
The Home Inspection, or also known as The Whole House Inspection, is by far the most important home inspection for a Buyer. Unless you are an expert, it is highly unlikely that you will catch a home's minor, or sometimes even major, problems during a typical house viewing. This is why it is important to obtain a professional, unbiased second opinion before making such an important decision. Therefore, as a home buyer, if you find yourself asking the question "do I need a home inspection?" The simple answer is, "yes."
A good home inspection will give you an unbiased assessment of the structural and mechanical soundness of the home. The inspector will identify any existing or potential problem areas, and give an overview of the condition of the foundation, basement, roof, windows, doors, walls, ceilings, floors, plumbing, electrical, heating and cooling systems. When possible, Home Inspections may also offer information on how to solve any problems discovered. Depending on the size of your home, a Home Inspection will cost you anywhere between $250-$600.
A question you may now be asking is "how do I find a good home inspector?" When hiring a home inspector to perform the home inspection, make sure that they are well established and have the required experience and credentials. Be sure they are independent and unbiased – they have no affiliation with any firms that might create a conflict of interest. Confirm that they will provide a thorough home inspection written report of their findings.
Last, but not least, make sure they are members of a professional association, such as ASHI (American Society of Home Inspectors), NAHB (National Association of Home Builders) or ICBO (International Conference of Building Officials). Your Realtor will usually have some good referrals for home inspectors if you do not know one personally yourself. Some local inspector resources can be found on this website's local resource page.
What a Home Inspection Should Cover
Home inspections will vary depending on the type of property you are purchasing. A large historic home, for example, will require a more specialized home inspection than a small condominium. However, the following are the basic elements that a home inspection will include:
Structure: A home's skeleton impacts how the property stands up to weather, gravity, and the earth. Structural components, including the foundation and the framing, should be inspected.
Exterior: The home inspection should include visuals of sidewalks, driveways, steps, windows, and doors. A home's siding, trim, and surface drainage also are part of an exterior portion of the home inspection.
Roofing: A well-maintained roof protects you from rain, snow, and other forces of nature. Take note of the roof's age, conditions of flashing, roof draining systems (pooling water), buckled shingles, loose gutters and downspouts, skylight, and chimneys. A whole house inspector is not a licensed roofer, so they do not move tiles to check valleys, ect. Only a visual. If any red flags are noted with the visual, they will simply "recommend" a licensed roofer inspect further.
Plumbing: Thoroughly examine the water supply and drainage systems, water heating equipment, and fuel storage systems. Drainage pumps and sump pumps also fall under this category. Poor water pressure, banging pipes, rust spots, or corrosion can indicate problems.
Electrical: Safe electrical wiring is essential. Home inspections should include the condition of service entrance wires, service panels, breakers and fuses, and disconnects. Also take note of the number of outlets in each room.
Heating: The home's heating system, vent system, flues, and chimneys should be inspected. Look for age of water heater, whether the size is adequate for the house, speed of recovery, and energy rating.
Air Conditioning: The home inspection should describe the home cooling system, its energy source, and inspect the central and through-wall cooling equipment. Consider the age and energy rating of the system.
Interiors: An inspection of the inside of the home can reveal plumbing leaks, construction defects, and other issues. The home inspection should include a look at walls, ceilings, floors, steps, stairways, railings, counter tops and cabinets, garage doors and garage door systems.
Ventilation/insulation: To prevent energy loss, home inspections check for adequate insulation and ventilation in the attic and in unfinished areas such as crawlspaces. Home inspections also look for proper, secured insulation in walls. Insulation should be appropriate for the climate. Excess moisture in the home can lead to mold and water damage.
What a home inspection does not generally and actively inspect is wood destroying organisms like termites and dry rot. Certainly a whole house inspector does look out for those items if they are obvious, and the home inspection will surely call them out, but will say something like "see pest inspection report for further evaluation." So, what is a pest inspection? What does a pest inspection cover?
The Pest Inspection
A pest inspection involves a full inspection of your home for any evidence of termite activity and/or evidence of dry rot damage, or moisture conditions that could lead to an atmosphere for wood destroying organisms or termites. This means that a pest inspector would inspect the exterior of your home including all the trim, home siding, under roof eaves, ect. Pest Inspectors do a full inspection of the interior as well, especially checking for water leaks in the bathrooms, kitchen and laundry areas, windows, and inspecting the attic where applicable. Depending on the size of your home, and if its on a raised foundation, the cost of a Pest Inspection is typically between $95-$175.
Home Buyers and Sellers are always surprised to find out that a pest inspection does not inspect for ants, spiders, ect. That is not its purpose. It is a home inspection that inspects wood. Helping make sure the structure is in tact and will remain in tact.
If any issues are found, a pest inspection will identify those items as a Section One item, or a Section Two item. Section One items are issues "currently" active and in need of immediate repair – like an active roof leak that has caused dry rot. Section Two items are not as urgent. Section Two issues are items that may possibly cause Section ONE issues in the future – like if dirt was up against the house above the foundation line. Once all the Section One issues are repaired, the pest inspector comes out to the property to re-inspect to confirm repairs are completed. Once confirmed, the pest inspector provides a "Pest Clearance" or a "Cleared Pest" or a "Termite Clearance." Any of those terms would apply.
In a standard purchase transaction, it is common place for a Seller to pay for a pest inspection report, provide the report to the Buyers, and to also repair all Section One issues on the pest inspection report. Section Two issues are commonly left for the Buyer to manage as the new home owner after close of escrow. Now-a-days, however, with short sales and REO/bank owned properties becoming common place, Sellers do not provide a pest inspection report, nor make any pest repairs, on those particular transaction. Short Sales and REOs are normally sold "as is." So, a Buyer has to make a decision on whether they want to purchase a pest inspection on their own, along with purchasing their whole house inspection, and any other inspection they choose.
Other Common Home Inspections
By far The Home Inspection and the Pest Inspection are the two most common inspections to perform in a real estate transaction. However, there are a few more common inspections that may occur as well:
Pool Inspection: A pool and spa inspection generally checks all the equipment making sure its operational, check the water chemicals, and checks for any leaks in any of the equipment. Sometimes a Home Inspector can include the pool inspection. Typically can add approx $100 to your home inspection cost.
Roof Inspection: A separate roof inspection completed by an actual licensed roofing company is considered a more proper and complete roof inspection than a general whole house inspector. The roofing company will do a walk-on roof inspection of the entire roof, including tiles are removed over valleys to check for debris, proper flashing installation, and anything out-of-ordinary that could compromise roof integrity in the future. If they can get inside the house, they will look in the attic as well. Their inspection performed is base on making the roof "certifiable" for 2 years if the recommended repairs are completed. A roof inspection can be FREE, depending on the company you choose.
Fireplace Inspection: The Whole House Inspector should at a minimum initially examine the system to see if it is operational, and visually check the back panel and any visual safety hazards like a cracked back panel. A home inspector normally does not do a full inspection on a fireplace. That should be to be left to a chimney sweep professional. Cost typically around $275-$300 to fully inspect a fireplace/chimney.
HVAC Inspection: An inspection of the entire heating and air system by an HVAC professional. Usually just a service call cost anywhere between $85-$130.
Other Home Inspections – Not So Common
The following is a list of the many inspections that may be performed on a property if a Buyer chooses to do so. Sometimes the property itself dictates whether any of these kinds of inspections need to be performed, or if the Whole House Inspection "red flagged" something that would cause a Buyer to inspect further:
Mold Inspection
Lead Paint
Plumbing
Square Footage
Structural
Easements/Encroachments
Foundation/Slab
Lot Size
Boundaries
Sewer
Septic System
Soil Stability
Survey
Tree/Arborist
Well
Water Systems and Components
Radon Gas
Formaldehyde
Asbestos
Methane Gas
Permits
Public Records
Zoning
Government Requirements
Contact Cheri Elliott anytime if you have any further questions or real estate needs.