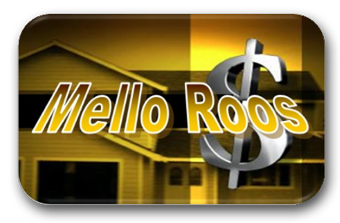 A Mello Roos District is an area where a special property tax on real estate, in addition to the normal property tax, is imposed on those real property owners within a Community Facilities District (CFD). These districts seek public financing through the sale of bonds for the purpose of financing public improvements and services. These services may include streets, water, sewage and drainage, electricity, infrastructure, schools, parks and police protection to newly developing areas. The tax paid is used to make the payments of principal and interest on the bonds.
Many communities requiring new schools and infrastructures such as public parks and roads impose Mello Roos. While property tax is assessed as a percentage of the value of the home, Mello Roos is independent and could rise or lower and is not subject to Proposition 13
"Quick Search" Mello Roos – Use APN#
To quickly look up Mello Roos in the counties of El Dorado, Sacramento and Placer, use the convenient "Quick Search Mello Roos" links below, click on your desired county, and simply have the property APN# ready.
How To Find Mello Roos on a Home
Most home Buyers are interested in knowing if a home or neighborhood possesses Mello Roos. One may be asking, "how do I find out if a property is subject to Mello Roos?" Or, "how do I search if a neighborhood has Mello Roos?" The reason these questions are so important is because Mello Roos does add expense to your property taxes if a property is subject to Mello Roos. Sometimes a substantial amount. A home Buyer must weigh the benefits of the extra Mello Roos expense against the amenities provided for that neighborhood and compared to other neighborhoods or homes that may not have Mello Roos. Mello Roos may be an extra expense; however, sometimes those extra expenses are worth the cost considering the kind of neighborhood one would be able to live in.
If you need to search mello roos in the areas of El Dorado Hills, Folsom, Serrano, Blackstone, The Promontory, or other areas in the El Dorado, Sacramento and Placer Counties, finding out if a home has Mello Roos is easy if you have the full address of the property or the Assessors Parcel Number (APN). With that information, you can find the Mello Roos on any property using the "quick search" links above. Done. If you live outside of these counties, simply go to your local county website and fine the property tax informational page and have the address and APN number ready.
Additional ways to search for Mello Roos information in the El Dorado County or to ask further questions in general about mello roos, call 800-676-7516 for El Dorado County CFD Mello Roos bond cost, then additionally call 800-755-6864 for El Dorado County Mello Roos bond. Or, you can simply email top El Dorado Hills Realtor Cheri Elliott with the property address, and she will provide the Mello Roos information for you promptly via email back.
Questions to Ask About Mello Roos
Questions to ask about Mello Roos would be "how many bonds are there?" Sometimes there are more than one bond on a property. Another question to ask about Mello Roos would be "how much is the Mello Roos bond?" Cost is by far the most important question to a home buyer or homeowner. Another great question to ask is "when does a Mello Roos bond expire?" Sometimes a Mello Roos bond does not have an expiration date if a neighborhood still has more building to do, or if no expiration date has been established like a school bond. Therefore, it is possible for a Mello Roos bond to not have an expiration date. In general, mello roos bond expiration dates can range from 20 years to 40 years. You are always disclosed all the mello roos information and cost during an escrow purchase so you can research all the details of mello roos before you choose to complete the home buying process.
Mello Roos History
In 1978 Californians enacted Proposition 13, which limited many local public agencies ability to finance new projects. In 1982, Senator Henry Mello and Assemblyman Mike Roos affected the passage of the Community Facilities District Act (CFD). This act authorized local governments and developers to create CFDs for the purpose of selling tax-exempt bonds to fund public improvements. Subsequently, property owners that participate in the CFDs pay a "special tax" to repay the bonds.
Mello-Roos Community Facilities District Act allows any county, city, special district, school district or joint powers of authority to establish a "Community Facilities District" (CFD) which allows for the financing of public services and facilities. The services and facilities Mello-Roos Districts can provide include streets, police protection, fire protection, ambulatory, elementary schools, parks, libraries, museums, cultural facilities, and water facilities. A requisite for the Mello-Roos districts' establishment is that it be approved by two- thirds margin of qualified voters in the district. If there are fewer than twelve registered voters within the proposed district, the vote may be passed by current landowners. At the close of legal proceedings, an established Mello-RoosDistrict has all the legal privileges of a legally sanctioned governmental body.
Responsibilities of Property Owners
Property owners in Mello Roos Districts are responsible for payment of the "special tax". The amount of the "special tax" is not (directly) based on the value of the property. Special taxes are based on mathematical formulas that take into account property characteristics such as square footage of the home and parcel size. The special tax is typically included in the annual County tax bill.
Legal Rights of the Community Facilities District
A Mello Roos District has the legal right to adopt stringent penalties and foreclosure priorities; in the event that the special tax payment is delinquent. Also, if the "special tax" is not paid, the District may exercise its legal right to foreclose and sell the property. Foreclosure rights can be initiated after 150-180 days in arrears.
If you need any legal or tax advise regarding Mello Roos, please contact your attorney, tax professional, accountant or financial adviser. Real Estate brokers and Real Estate agents do not provide tax, legal, or financial advise. This Mello Roos page is for informational purposes only.
Contact Cheri Elliott if you have any further questions or real estate needs.