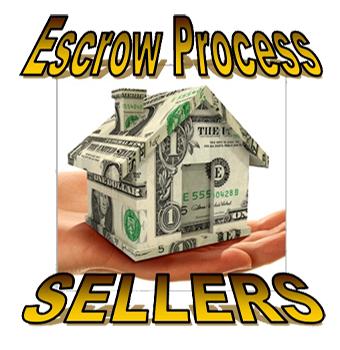 The Escrow Process for a Seller has many obstacles to conquer in order to achieve a successful escrow closing - which ultimately means money in the bank for the Seller. An escrow normally lasts around 30-45 days. The escrow steps below provide a general overview of what is customary for a Seller to experience during an escrow in the state of California. The information below solely focuses on the Seller's Escrow Process experience. To understand what a Buyer experiences during an escrow, go to Buyer's Escrow Process. Home Sellers should always look to their Listing Agent for guidance throughout the entire escrow process from start to finish, while additionally educating themselves on the process allowing for wonderful teamwork that will attain a successful closing.
ESCROW OPENS: Once purchase contract terms between Buyer and Seller are fully negotiated and agreed upon by all parties, that final day of "acceptance" starts the escrow process. The title company contractually agreed upon to handle the transaction is contacted by the Realtor and escrow is officially opened that day - or the next morning if final negotiations went late into the evening.
CO DETECTORS / SMOKE DETECTORS / WATER HEATER STRAPPED: If the Seller hasn't already, the Seller needs to immediately install a Carbon Monoxide (CO) detector on each floor of the home. Plus, also ensure all smoke detectors are working, and water heater is double-strapped to code. All three of these duties are required by California law for a Seller to comply, and the home will not pass inspections/appraisal without them being completed.
LEASED ITEMS: If your home has any leased property such as solar, contact the company(s) with which you have the lease and inform the company(s) you are selling your home and request the transfer instructions promptly to ensure a smooth transfer process during the escrow. Be sure to disclose to your Realtor any leased items on the property well before selling your home so they are ready for any procedures on their end as well.
DISCLOSURES: Sellers are required to provide all Seller disclosures and county disclosures to the Buyers within 7 days of contractual acceptance. The Seller's Realtor will prepare all required documents for the Seller and make an appointment with the Seller to sign and fill out. HOA FEE: If Seller's home is located in a Home Owner's Association (HOA) development, Seller may have an up-front HOA fee in order for the title company to order all the HOA documents.
GENERAL PAPERWORK FROM THE TITLE COMPANY: Seller will receive general paperwork from the Title Company to fill out. Sellers should always fill out and return paperwork to the title company in a timely manner. The Seller's information is critical for a title company to push the escrow forward smoothly, especially Seller's bank loan information on the property because the title company needs to request Seller's bank loan's "pay off" which does take some time.
INSPECTIONS: The Buyer has 17 days to complete and review all inspections. The Seller may be required to provide an inspection such as a pest inspection. When inspections are scheduled, the Seller is given plenty of notice so the Seller can prepare the home and prepare to be gone, if needed. The Buyer's Whole House Inspection is the big inspection, and Sellers customarily need to be gone for that inspection, which can be a 2-4 hours process. Buyers may do other inspections like a roof inspection, pool inspection, ect. To learn more about inspections, go to the Home Inspections Page. Sellers should continue to keep their home in "show form" for the entire 17 day inspection period so the Buyers continue to experience the home the same way they experienced it when the first saw it. Sellers should not start any serious packing during this 17 day period yet. Sellers want to make sure the 17 days inspection period goes well before jumping the gun on packing.
APPRAISAL: The Buyer's Lender Appraisal will also occur sometime within the 17 day period. Sellers should always have the home in "show form" for the appraisal. If the home does not appraise at purchase price, Seller's Realtor will talk about options at that time.
REPAIR REQUEST: After all the inspections are completed, Buyers may request certain things to be repaired as a result of those inspections. This written request should happen near the end of the 17 days escrow inspection period. Sellers have every right to accept or reject or negotiate the repair request submitted by the Buyer. Sellers just need to always understand that if the Buyer is not happy with the Seller's response to the repair request, the buyer can cancel the contract and take their full earnest money deposit with them. Therefore, Sellers should think long and hard before rejecting a Buyer's repair request, especially if the request is reasonable. Customary requests usually focus on healthy and safety issues, or anything not functioning properly, or Section One Pest Inspection findings. Many times a combination of all three types of repairs are present depending on the condition and age of the home.
BUYER DECIDES TO MOVE FORWARD – DAY 17 – REMOVAL OF CONTINGENCIES: Once the Buyer has read all disclosures and reports, and seen the results of all the inspections, and seen the result of Seller's response to their repair request, Buyer will "release" all their contingencies in writing (except for the loan contingency). When Buyers release all these contingencies, this is a big day. A Seller can rejoice in knowing they are nearing "the home stretch" of the escrow because the only thing left to do from here in the escrow is for the Buyer's lender to provide final loan approval, and this is usually just a formality at this point.
BUYER GETS FINAL LOAN APPROVAL – DAY 21 – REMOVAL OF LOAN CONTINGENCY: This is a big day. Once the buyer removes their final loan contingency in writing, the escrow is officially "on the home stretch." When ALL Buyer's contingencies are released, if the buyer were to fall out of escrow from here on out, Seller would keep the Buyer's earnest money deposit as recourse. Therefore, that means Buyers rarely fall out of escrow after day 21 because Buyers are not in the business of losing thousands of dollars for no reason. Very rare for an escrow to fall out from this point on. Hence, "the home stretch."
START ON REPAIRS: Once Listing Agent informs their Seller ALL Buyer's contingencies are removed in writing, Sellers can now start on any repairs that were agreed upon. Save all receipts of repairs completed and keep those copies for the Listing Agent to show proof to the Buyers repairs are completed. Sellers should never start on any repairs until ALL Buyer contingencies are removed. Why? Because repairs cost the Seller money. If the Buyer falls out of escrow after their contingency removals, Seller has rights to the Buyer's full earnest deposit, which helps with offsetting Seller's costs spent on repairs. Sellers can also start the serious packing at this time.
SIGN ESCROW PAPERS: Within a few days of close of escrow, Seller will go into the title company and sign all the necessary paperwork to prep for close of escrow. Seller will communicate directly with the escrow officer for this appointment. The escrow officer will accommodate any special needs Seller may have if Seller is not able to sign during normal business hours. Please just be aware if you ask for special accommodations after hours, or during weekends, or out of town signing, a notary will be needed, and a notary will cost an extra fee. NOTE: Seller needs to have their BANK wiring information with them when going into the title company to sign papers so Seller can receive net proceeds via wire transfer after close of escrow.
FINAL WALK THRU: Within a few days of close of escrow, buyers will normally do a final walk thru of the home to make sure home is in the same condition as the first time they saw it, and to confirm repairs are completed if any were agreed upon.
VACATING THE PROPERTY: Per the standard contract verbiage, Sellers are required to be completely out of the property by 6:00pm on the close of escrow date. Make sure all personal property and trash are removed from the property. Unless otherwise contractually agreed upon, do not remove anything from the property that is "attached." Rule of thumb, anything a Seller would have to take a screw driver to STAYS with the property. Although professional cleaning is not required, Sellers are expected to leave the home in vacuum and wipe down clean. Professional cleaning is always recommended to simply make life easier. NOTE: Sellers should ask their Realtor where to leave all keys, garage door openers, mail box keys, neighborhood gate openers, ect, upon final departure.
ESCROW CLOSES: Escrow officially closes when the County "records" the property into the new home owner's name. Your Realtor will let you know when its official. This customarily happens late afternoon on close of escrow date.
YOUR NET PROCEEDS: Seller will receive net proceeds money from the sale the next business day after closing escrow. Congratulations on a successful sale!
Contact Cheri Elliott

anytime for further questions or real estate needs.